THE CHALLENGE
Our client, one of the main European manufacturers of liquefied air gases, has two production and packaging plants in Spain. One of the main concerns in this type of processes affects the safety of the facilities, which are subject to strict controls and protocols.
In application of the usual safety protocols, the client detected that many of the manifolds used in the gas distribution network were nearing the end of their useful life and could pose a risk in the event of unexpected overpressure, water hammer or transient dynamic loads. As a result, it decided to consult with Meciberia to replace the current system with manifolds adapted to the installation that would guarantee safe operation, as well as increase its durability and efficiency.
THE SOLUTION
Evaluating our client's needs, we recognized the type of manifold they needed to reduce risks and improve processes. Meciberia proposed the installation of Mecesa's MC series 420-430 bar manifolds. This equipment regulates pressures up to 430 bar, and withstands temperatures up to 350º. Specifically, several one-way manifolds and two valves were installed, a line valve with 1/2″NPT inlet and outlet and a discharge valve with 1/4″NPT female outlet. These are basic and very standardized parts that help regulate and control fluids in a natural way.
These manifolds performed the same basic functions but technically surpassed the characteristics of the old ones, since Mecesa regulators offer high performance, efficiency, safety and are smaller, so the installation gains in space and maneuverability.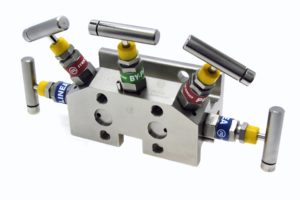 THE RESULTS
The manifold replacement improved the operation of the customer's gas processes, enhancing the safety of the facilities and optimizing the response to potential overpressure risks. In addition, the new manifolds offered additional benefits that improved the maneuverability and handling of the equipment:
Quick and easy connection to the instrument.x
Guaranteed tightness.
Reduced space requirements
Strong anchoring of components
Low maintenance cost.
Discover our range of Manifolds