Mecesa has expanded its range of products for industrial instrumentation and control with the incorporation of the APLITEX range of products.
Discover the most commonly used flow and temperature measuring elements in industry such as nozzles, venturis, Pitot, thermowells or temperature probes and resistance thermometers. APLITEX manufactures pressure equipment according to the European Pressure Equipment Directive 2014/68/EU (DEP).
The design of its equipment is very important to collaborate with the customer, providing the necessary knowledge for its specification and regulations with calculations of material resistance or fluid mechanics, adapting the equipment to the regulations in force.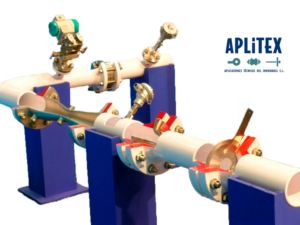 Its easy installation allows no limitation in construction materials to its size and range.
Our Product Manager Rafa Lucena will support you in any doubt or query for your installation.
The #innovation and #adaptation are fundamental pillars to adapt to your project and look for the best #solution adapting it to our manufacturing and machining processes.